Gertrude Stein, a well-known writer who was born an American but lived in Paris for most of her adult life, was admired by many — including the likes of Pablo Picasso & Ernest Hemingway, among many others.
In addition to her writing, she's also remembered for the extraordinary "salons" she hosted in her Paris home where many famous writers, artists & musicians hung out.
Some did so to be "seen", while others hung on every word of Stein's opinions & advice as they navigated the tricky waters of their creative endeavors. She was very much admired for her viewpoints on art & the creative process.
If you've never seen the movie, "Midnight in Paris" — I highly recommend it if you want to get a little taste of what Paris life was like during that time, and to learn a bit more about Gertrude Stein & her famous salons.
Today, we're going to focus on one of Stein's quotes about art & creativity, that hopefully will inspire you when developing your artistic eye, and perhaps your creative voice as well.
This is a quote about not listening to what others have to say, but instead increasing your capacity to discern what you think & feel about the art that you read, hear & see...
Learning more about what you enjoy is much more important than what "they" have to say ... you know, those people in your circle of family & friends, and the so-called "experts" in the art world.
None of that matters. What truly matters is what YOU think, what YOU feel & what YOU love about art.
Everything else is just noise.
Of course, others' opinions can help you think about art at a deeper level, especially when they have something informative to say.
But when it comes right down to it (just like everything else in life), paying attention to what YOU think & feel about something is what matters most.
Listening to what "they" have to say will only get you so far on your creative journey! The rest is up to you.
As an added treat today (since fall & Halloween are fast approaching), let's take a stroll through the lovely Père Lachaise cemetery in Paris, where Gertrude Stein as well as many other of the world's great artists, writers & musicians are buried.
It's one of the most beautiful old cemeteries I have ever laid eyes on, full of trees & gardens, and hundreds of old mausoleums & tombs — I could spend hours wandering around there & never get bored.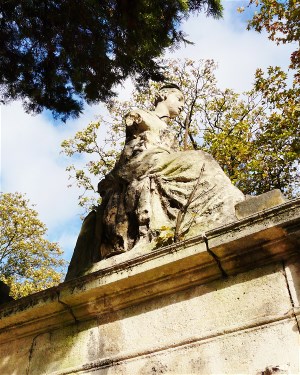 These two photos below are of Edith Piaf's grave. She was a beloved singer who rallied the French after WWII with "La Vie En Rose" ... a beautiful song written by Piaf herself.
And these next two photos are of Oscar Wilde's gravesite.
They had to put a plexiglass fence around his memorial because of the number of lipstick kisses that were bestowed on his grave. (If you pinch & zoom in close you will see them.)
And below that is one of his quotes I found scrawled on the bathroom wall there, and I thought it was pretty darn good advice even if it was scrawled in a stall, lol.
Below are a couple photos of Gertrude Stein's gravesite, whom we've been talking about today...
And also the tomb of  famous French playwright, Molière...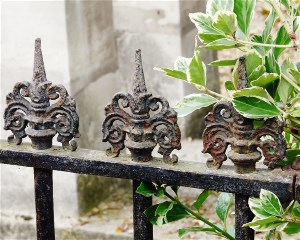 And these are of the gravesite of musician Jim Morrison of The Doors, who was found dead in a hotel room not too far from the cemetery. This too has been fenced off because of overzealous fans.
I saved my favorite until last.
The grave of George Seurat whose paintings made of dots of light left an indelible impression on me long ago, and an homage of sorts for me...

In general, there were tons of flowers found along the way.
Honoring the dead with flowers seemed to be very important to the French, they were everywhere I turned.
I love the beauty of dying flowers, and anything in nature really that's starting to decay. To me, there's just something so poignant & lovely about them.
The ceramic flowers below that were collecting dust & had gotten chipped over the years, had their own special beauty.
And this final picture is a quote attributed to Edith Piaf, and can be found on her grave...
"God reunites those who love."
I sometimes include images from my travels in the hopes that it will inspire you to do the same. It really doesn't matter how near or far, I encourage you to go exploring, and notice what sparks your interest. Doing so will increase the depth & breadth of your visual catalog, which is something you need whether you're buying art or making it.
Now it's your turn. Let us know more about your travels by scrolling down & leaving a comment. You can even upload some of your photos! What places have inspired you?
Even if it's the town you now live in, a nature stroll you've taken, or simply sitting in your own back yard — creative inspiration is everywhere. I would love to hear about a special place you've been, and why it makes you happy :)