So in today's blog I'll be talking about an art event held here in Greenville, SC by a wonderful local organization who has been instrumental in growing the arts here ... Metropolitan Arts Council (aka MAC).
This is an annual event called Flat Out under Pressure, and each artist is given just 24 hrs. to create a piece of art from start to finish.
 
Basically, you go into MAC early Friday morning, get your blank canvas stamped, and then return it to them completely finished by Saturday morning.
They hang every single piece in their gallery, and then by Saturday night the place is rockin' with the most amazing art hung on the walls, and lots of good food & drink.
This is what the stamp looks like...
I decided to work in encaustic & cut paper, using a similar technique to the one I used for Venus de Milo: Shattered
For that particular piece, my inspiration came from the cubist work of Pablo Picasso.
But for the piece I'll be sharing with you today, I decided I would draw inspiration from one of my all time favorite artists, Henri Matisse.
Here's 2 images of his work I specifically focused on to help get my creative juices flowing...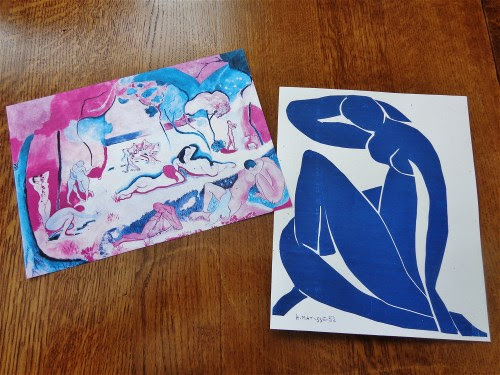 The hubster (romantic that he is) also gifted this amazing book below to me a few months ago (love love love!) which uses the composer Leonard Cohen's lyrics to the song "Dance Me to the End of Love" and combines them with several images of Matisse's beautiful work.
I adore this book!!!!!!! If you love Matisse & Cohen as well, then this book is a MUST for your collection...
Now I'll start walking you thru the process of how I created this piece for MAC's Flat Out Under Pressure event.
The first thing I did was to add white pigment to my encaustic wax medium, and brushed it over the entire surface of my cradled wood panel.
I fused that with a heat gun & let it cool, and then took a white Sennelier oil pastel (the best) and just scribbled all over the surface like this...
Umm, yeah ... I used a lot!
This is what the scribble looked like up close ... this was quite fun!!!!!
And although not the best quality photo, this is what it looked like after I fused the white scribble with a heat gun. It gave it a nice mottled tone-on-tone effect...
Knowing I would need to use my sketch to trace onto my cut paper pieces, I decided to use wax paper (for its transparency) for my initial, albeit rough sketch.
What was nice about this is that I could go over & over it with a fine point black sharpie, and then once I liked what I saw, I then firmed it up with a thicker black sharpie.
I didn't like the initial back leg I drew on her, so I scribbled it out & drew another one further away from her front leg. I did this because I decided I wanted her to have more movement, as if she was dancing....
Here are some of the photos of the Venus de Milo that I used for this piece (I used some smaller versions of them as well.)
So the idea was to tuck these images underneath the waxed paper sketch, and then trace onto them, and then cut them out to fit the image.
Welllll, this was where things started to go awry. Keep in mind that since an encaustic studio has to be well ventilated, I had a table fan, a ceiling fan, and an a/c unit going to circulate the air. 
Much to my frustration, fans & waxed paper DO NOT play well together. Oh my gosh, nothing was staying down as planned. I would try to tape her down to keep her still, but then had to take the tape off to slip the image underneath.
And then she would start a-flappin' around again! Boy was she being difficult. Give her a little freedom from that darn marble and watch out lol.
Seriously, this is what she looked like - the little troublemaker...
Talk about crazy town!!!!!!!!!
Between working against the clock, and having this little vixen give me such a hard time, I spent a couple of anxiety ridden hours battling back & forth with her ... ugh.
Needless to say, if the real Venus de Milo had walked into my studio, I would have decked her for sure lol. But luckily it was close enough to wine time by then, which helped!
After finally wising up & realizing I was fighting an uphill battle with my waxed paper Venus, I proceeded to sip on my wine (ok, so maybe there WAS a gulp or two in there) and put my thinking cap on. I knew I still needed something that was transparent, but also it had to be able to stick so the fans wouldn't blow her every which way.
Then voilà ... after a few deep breaths I remembered I had some sheets of frisket film in my handy stash of art supplies!
If you're not familiar with frisket film, it's basically see thru plastic sheets with a tacky adhesive on one side. It was EXACTLY what I needed.
Not wanting to waste any time, I quickly transferred my sketch from the wax paper to the frisket ... THEN I was able to start tracing and cutting my pieces, because they were able to stick to the adhesive on the frisket and in turn anchored her down a bit more ;-)
It still took a while to figure out which image I wanted to put where, but I eventually got them situated the way I wanted them.
Keep in mind that everthing looks a bit wonky & disproportionate because the thick black marker is covering up part of the images...
Once I got all of my pieces attached to the tack side of the frisket film, then it was just a matter of temporarily taping each piece down to my encaustic background, and then carefully peeling off the frisket.
And this is what it looked like once that part of the process was done...
I was thrilled to get this far!!!!!! You have no idea how much angst I went thru to get past that hurdle. I have learned though, that if I'm stressed during the creative process the best thing to do is to sit back, take a break and then take lots & lots of deep breaths. My creative muse gets skitterish if I'm anxious & stressed. She needs lots of calm to figure things out!
Each piece is seperately dipped in wax, and then after warming the wax underneath with a heat gun, it's "pasted" into place with more wax & fused one more time with a heat gun.
And then this is what the pieces look like once they're "glued" down with the encaustic wax...
So, after I got all the pieces in place, and eyeballed the whole thing looking for anything that didn't work, I realized the back ankle looked huge compared to the front one (no girl wants thick ankles, am I right??!!!)
What's nice about encaustic, since it's beeswax, is that if you don't like it - a little heating with the heat gun and off it goes!
In the interest of time which was running out quickly, instead of redrawing a new leg, I simply amputated her front leg from the wax paper sketch I had done, and traced her a new one!
Now she's rockin' an ankle to be proud of ;-)
I totally forgot to take any pictures of the hair while I was doing it.
But basically, since time was now getting away from me (it was probably well after midnight at this point), I drew some wavy lines on the Venus de Milo images I was working from with a pencil, and started cutting!
I then pieced & fit as I went. Eazy peazy lol. It seems time constraints sometimes actually help me stay focused, and not overthink things.
Last but not least, I used one of my favorite techniques. I splattered colorful encaustic wax all over. The trick is to have fun and not worry so much about getting splatters where you don't want them. Because it's wax, they can easily be scraped off if some go awry.
Below are some close up shots of the final piece. Be sure to pinch & zoom to really get a feel for the exquisite texture of the encaustic medium...
And here's the final piece below. Since she has just recently liberated herself from her marble prison, her arms & hands are still being formed.
Venus de Milo: Breakout ©
24" x 20" x 1.5" encaustic & cut paper
on cradled birch panel
Flat Out Under Pressure 2019
(at Metropolitan Arts Council thru 7/26/19)
And finally the pièce de résistance ... a little wire & a little more wine!
Bedtime was 3 am Saturday morning, and then back up for last looks, a little bit of polishing, and then off to MAC to turn it in by the deadline.
Well of course I took a nap when I got home ;-)
Now it's your turn...
What artist(s) are you drawn to? Are you in love with Matisse like I am? Have questions about the encaustic medium in general, or about this piece?
I'd love to hear all about it in the comments below. Your creative voice & heART matter to me ... always!